Tyler TX AC Installation | Trusted Cooling System Replacements
Without an efficient cooling system in place, the heat of summer can be unbearable. ACs are crucial to battle this oppression and keep us cool during those long hours outdoors!
When it comes to your home, you want the best and most efficient cooling system that will keep every square inch of space at an optimum temperature. This requires AC installation and service by professionals who know what they're doing.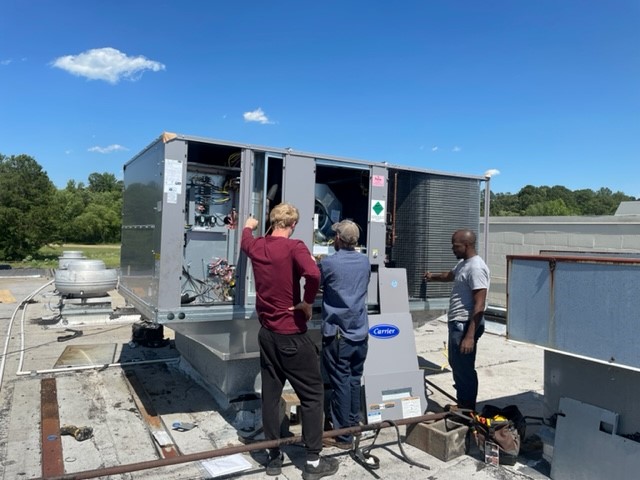 With a problematic AC system, you may experience many headaches. However, the decision on whether or not it's time for an installation can be just as tricky! As a homeowner, how would one know when their old units need to be replaced with newer models? There are clear signals that show us all these things.
Let us help.
Your old cooling system is probably up for replacement yet. Here are six sure-fire signs that will tell you when it's time to replace the cooling unit in your home:
1. Your appliance has been working continuously for over 10 years
2. Your system requires repairs every now and again.
3. Your energy bill is rising due to your cooling system.
4. Not all nooks of your house are evenly cooled.
5. The system is still running on R22 refrigerant, which might soon be phased out.
Air Conditioner Installs and Replacements You Can Trust
We all know that AC units can be a hassle to install and maintain, but if you've nodded yes to two or three of the signs below, then it's time for an upgrade.
Why wait until your air conditioning system breaks down? Fortunately, replacing an old A/C is easy when our team of pros comes in handy! We can help get everything set up and running smoothly while maintaining them, so their performance lasts years without problems - at reasonable prices too.
You still aren't sure about getting a new system? Here are some extra rewards that will come with your decision:
1. When you invest in an energy-efficient HVAC system, your home will be more comfortable and conserve energy consumption.
2. You'll enjoy a more tranquil environment with today's highly efficient cooling systems. They run much quieter than older units, so you won't be bothered by them in your daily life or when trying to sleep at night
3. You'll have a great time when relaxing at home with a cooling system that gives no headaches but calmness and comfort.
When choosing the right cooling system for your home, our experts can help you make an informed decision. Don't forget—if the size is an issue in determining which type of unit best suits what's needed at any given property, we have professionals who know their stuff! Many homeowners don't realize how important this factor really seems when purchasing new appliances or upgrading old ones with more efficient technologies. Too big (or small) may result in a loss in cooling efficiency.
Need Your Air Conditioning Installed or Replaced? Call Our Team!
We know how it feels to have an inefficient system, and we're here for you. Whether your AC needs installation or maintenance, our pros will ensure that the air in all areas is nice and cool again!
AREAS OF TYLER, TX
75701, 75702, 75703, 75704, 75706, 75707, 75708, 75709, 75798, 75799
Azalea District, Rose Country Estates, The Cascades Golf & Country Club, Lake Tyler Petroleum Club, Cumberland Place Apartment Homes, East Texas State Fair, Faulkner Park, Guinn Farms, Shiloh Pines, Saddle Creek Nurseries
FIND US HERE:
Tyler Weathermakers Inc
2503 E Erwin St, Tyler, TX 75702, United States
903-501-2300